Excursion is a combined closed circuit oxygen / semi-closed circuit nitrox Tactical Diving Life Support System that provides an operational diving capability beyond the safe depth and time exposure limitations of oxygen.
​
To switch to the nitrox gas supply stored in a separate pressure vessel (cylinder), the diver rotates a multi-turn gas switch-over valve that provides a constant mass flow of nitrox gas into the breathing circuit. Following a gas switch from oxygen to nitrox, the diver may descend to a maximum depth of 24m using 60/40 nitrox or to 30m using 50/50 or 40/60 nitrox.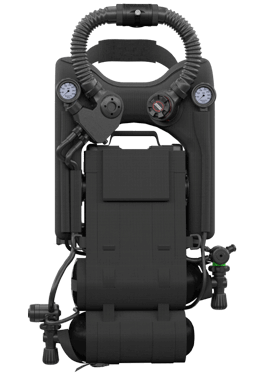 Shadow Excursion includes a nitro kit which facilitates greater depth capability for a range of mission profiles that may include:
Very Shallow Water (VSW)
​
Amphibious
beach
reconnaissance
Direct action below safe depth of oxygen
When in nitrox mode, for increased safety, to provide a means of monitoring the oxygen level within the breathing circuit, an optional Oxygen Partial Pressure (PO2 ) monitor may be fitted that can also be configured to supply decompression management data. Additionally an optional nitrox cylinder pressure alarm may be fitted which via a mask mounted peripheral display, provides a low cylinder pressure warning.
Excursion Configuration Options
Excursion can be tailored to suit specific mission requirements via the use of the following accessories:
 Transport case

 Full face dual mode mask

 Bite mouthpiece and half mask

 Buoyancy compensation jacket

 Digicom through-water communications

 Dry suit inflation system

 Diver tool and test kit

 Maintenance tool and test kit

 300 bar 2 litre non-magnetic composite cylinders

 300 bar 3 litre low magnetic composite cylinders

 Spares package to suit customer requirements
Operational
Versatility
​
For shallow water operations using a Tactical Diving Vehicle (TDV) where mission profiles are required to extend beyond the typical four hour single oxygen exposure limit, nitrox gas located on the diver and / or on the TDV, may be used for extending dive profile durations beyond four hours.
To support TDV operations, a bespoke dual flow nitrox gas switch valve may be used enabling the nitrox gas to be switched to low flow when on / in the TDV and high flow when undertaking free swimming.
Maximum depth (m): 30***

Canister duration (hrs): 4-6**

Air temperature operation: -20°C to +40°C
Sea temperature operation: -2°C to +35°C

Freshwater temperature operation: +1°C to +35°C

Pressure: 300 bar cylinders
* Dependent upon local oxygen exposure limitations
** Dependent upon diver work-rate and water temperature
*** Dependent upon nitrox gas selected
Height: 720mm

Width: 430mm

Depth: 160mm

Weight: 11kg
The unique multi mission capability of Excursion and the Shadow family of Tactical Diving life support systems offers reduced through-life costs and logistical advantages that include:
A common platform reduces costs associated with training divers to use multiple life support systems

Common spares reduces the spares inventory

Common documentation / manuals

Reduced maintenance

Fully user serviceable